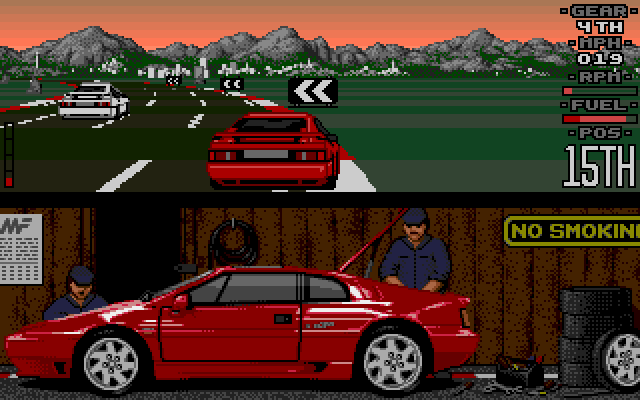 Fans of arcade-style racing games will be familiar with the Lotus trilogy. The three racing games in pseudo-3D style were a success in the early 90s, especially on the Atari ST and the Amiga. The split screen was already included in part 1. At that time, however, it was no longer common to develop on the ST and port a game 1:1 to the Amiga. The original Lotus did not make use of the STE hardware.
Now there is an extended version for the STE, strongly inspired by the Amiga Lotus. First of all, the Blitter is now heavily used, road, roadside objects and cars are calculated by the Blitter. Also the mountains in the background are now handled by the Blitter. All objects move more smoothly across the screen now. The extended color palette of the STE is used. The sounds of the engine and the sound effects are samples, plus there are ST chip tunes.
Officially supported are the 1040STE and the Mega STE (also in 16 MHz mode). On STs with Blitter the game also runs, but there the gradient in the sky is limited to the ST color palette and there are no sound samples. Download at Atarimania.
---