Software
Top Software
Escape Paint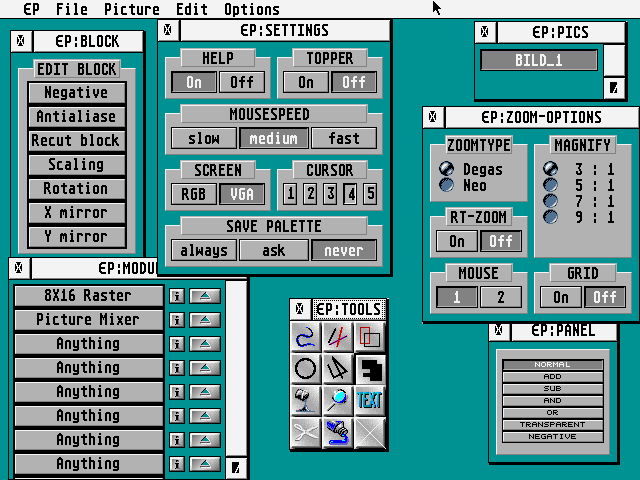 Norman Feske aka No/Escape had developed Escape Paint, one of the most popular scene painting programs for the Falcon. It was the first production by Escape, who later released various STE and Falcon demos, as well as the Visual Light Machine Whip! for the Falcon. Escape Paint offers modular effects, a simple GEM interface and two types of zoom (Degas and Neochrome). This archive contains both the compiled program and the source code, which we publish here with kind permission from Norman.
Escape Paint+Sourcecode
PixArt 4.5x
A very good graphics program by Crazy Bits. We exclusively offer you the full version for download.
PixArt 4.5
ZX81-Emulator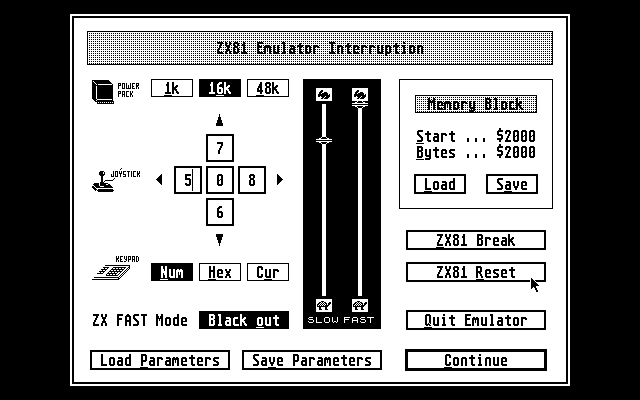 Unsurpassed: the ZX81 emulator for the Atari ST/TT by Christoph Zwerschke. First released on the cover disk of TOS, the emulator offers the best ease of use. Especially games benefit from this, because the joystick can be individually assigned with keys.
ZX81-Emulator 2.1
Atari-Zeitschriften
Unfortunately there is no useful overview of the contents tables of Atari magazines. Therefore I started to create one.
The result is a database for Phoenix.
Because I don't like the search with Phoenix very much the database contains a report. This report creates a file which can be read by the Heise register program.
New:Version 15 from 05.06.2016: 10/14, 12/14, 2/15, 6/15, 8/15, 10/15, 1/86 and several corrections. First database for ST-Magazin.
Atari-Zeitschriften v15
Phoenix 5.5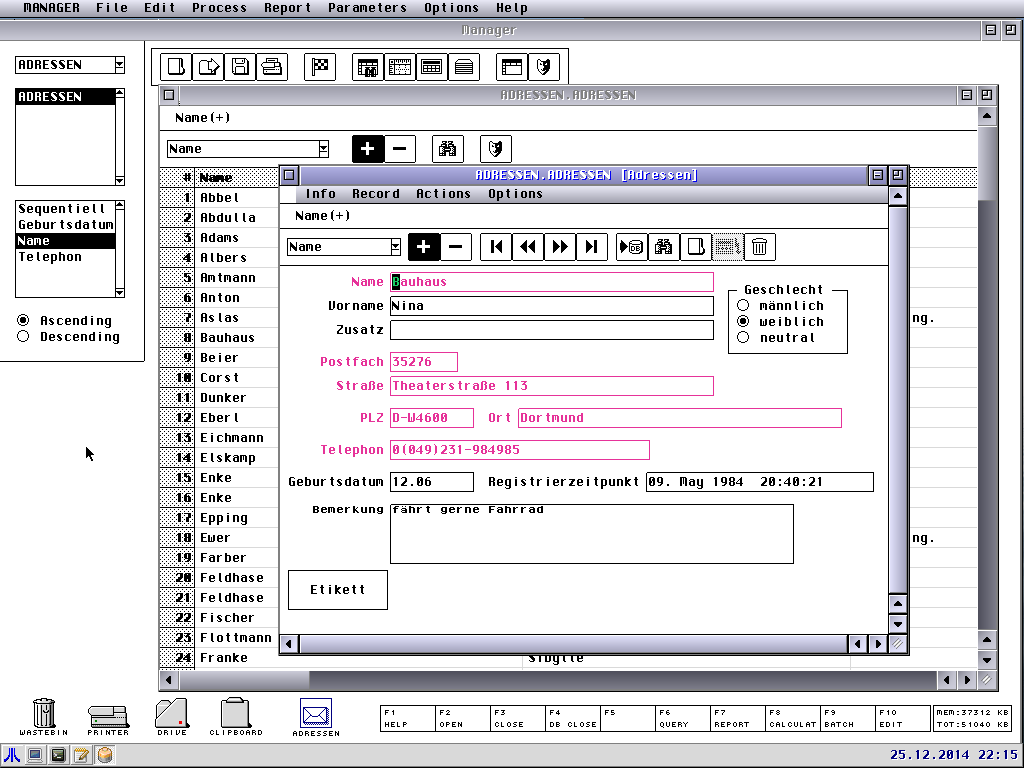 Phoenix is a relational database program for the Atari and unofficial successor of Adimens.
This version is based on the sources of Dieter and Jürgen Geiß.
Phoenix 5.5
HomePage Penguin 3.05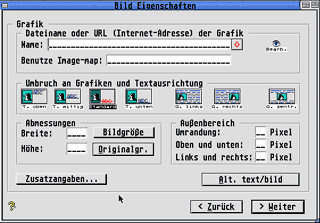 The HTML wizard HomePage Penguin was the first ST program for the ST to create websites. The commercial version was distributed by Falke Verlag and M.u.C.S. The user is guided step by step through the design. No HTML knowledge is necessary - you will be surprised by the functional range of the HTML tool.
The former commercial program (last EUR 16.--) can be downloaded from our download area in version 3.05 exclusively and can be used without any restrictions.
HomePage Penguin 3.05
Fiffi
Fiffi makes it possible to access an FTP server. FTP stands for file transfer protocol and makes the transmission of files between computers of all kinds of operating systems and system architectures possible. On FTP servers are often the interesting software archives on the Internet.
Furthermore, it is possible to upload files on your website.
This Fiffi version based on the source from Jürgen Koneczny.
You need the following programs for using Fiffi:
MagiC (Atari, Mac, PC) v4.5 or better and
IConnect v1.0 or better.
Download:
Chatter/Teli
Chatter is an IRC client for the internet access packages Draconis and IConnect.
With Teli (Telnet) you can work on a remote computer via your local computer in text mode.
Chatter and Teli are based on the sources by Jürgen Koneczny.
SysGem
SysGem is an easy to use and especially easy to handle GEM library. SysGem was developed to be able to develop programs quickly and easily GEM-compliant, without having to be familiar with GEM programming.
After Andreas Pietsch published the sources for version 2.03 a very long time ago, Gerhard Stoll made some bugfixes. Furthermore, some new functions have been added.
Download:
This small program (sgemovl.ovl) is an overlay for ResourceMaster version 3.0 and higher, which allows you to test the look of resources while creating them.
This overlay is specially written for the objects of the library SysGem.
Download it: SysGem Overlay Version 0.05 21.05.2000 (16k)
Icon Extract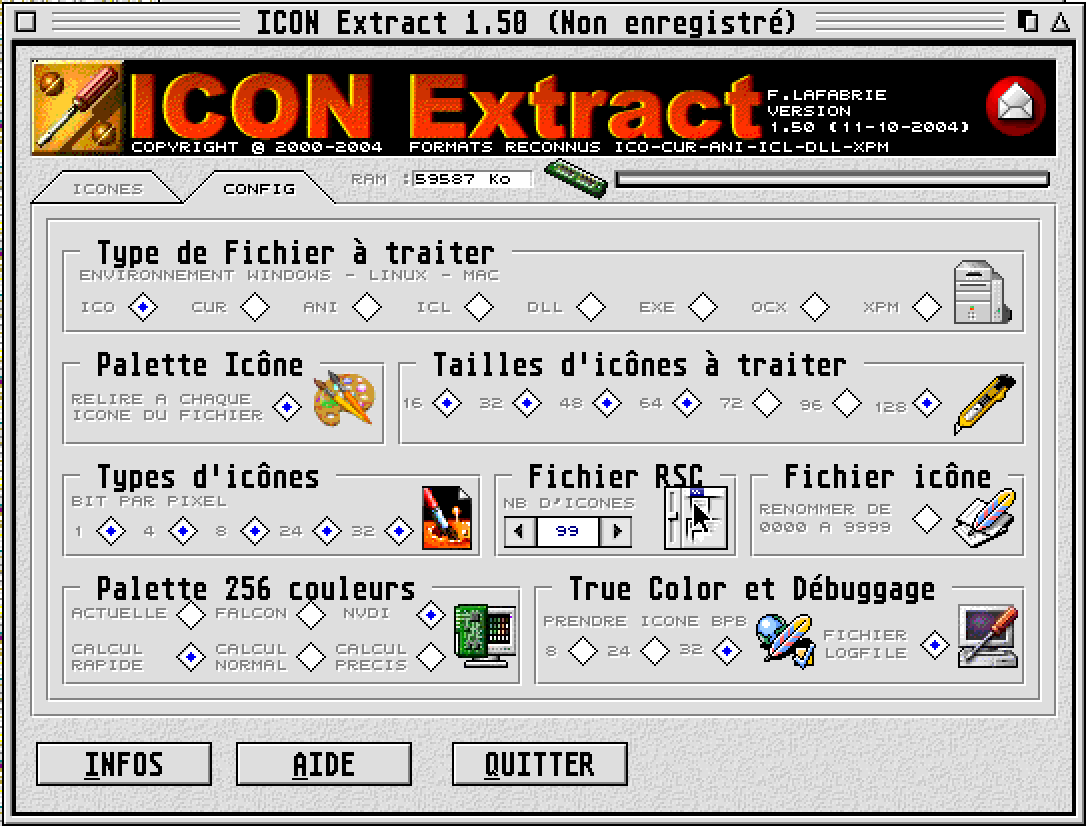 ICON Extract 1.50, the universal icon converter by Florent Lafabrie The program is in French language but self-explanatory.
Icon Extract 1.5
Draconis English Manual
This is the translated version of the Draconis manual 1.7, found on my old hard disk. Provided in papyrus format and as a raw text file with separate screen shots. As Draconis and all associated programs are now using the GPL, the manual is placed under the Gnu Public License as well.
Draconis manual 1.7
Rational Sounds 2.0.2
A former commercial utility that assigns freely selectable samples to system events. Rational Sounds is installed via GEMSetup, a multitasking operating system is recommended.
Rational Sounds 2.0.2
qed 5.0.2
The popular text editor. qed currently is available in German, English, French and Czech. (hypertext only German).
download (program files/German) (this archive is needed for all other languages too!)
download (English Resource/Syn files) Resource by ddp Translations
download (French Resource/Syn files) by Remy Villatel
download (Czech Resource/Syn files) by Martin Musil
download (Netherlands Resource/Hypertext) by Godfried Cobben

Additional Files (to be included in the next release):
Improved asm.syn (Assembler syntax definition) by MiKRO
Weitere Programme
Sweet_16.rsc
We exclusively offer a new resource file for the MIDI sequencer Sweet 16 by Roni Music. It gives the otherwise somewhat antiquated looking program a more modern look and improved keyboard handling. Sweet 16 is a MIDI sequencer with the similar features of C-Lab Creator, but also runs under multitasking operating systems and on graphics cards.
Sweet_16.rsc
Wacom ArtPad
The Wacom ArtPad II can be operated with the Atari. The archive provides driver software for the graphics tablet. (tr)
Wacom-Treiber
Concord3
Concord is a powerful concordance program for the Atari. Unfortunately we can only offer you the program including the five books of Moses. (tr)
Concord3
Atari-Tux
In issue 05-2001 we worked with an Atari-Tux as a graphic in our section "Tricks in Pictures". To participate in the workshop you can download the cheeky bird here. The bird was drawn by Alex Scholz (tr)
tux.jpg
Manitor 1.04
Manitor logs various system calls (AES VDI, Gemdos, XBIOS, BIOS) and their return codes in a log file. Originally developed by Manfred Schwind, Gerhard Stoll took over the further development
Manitor
GENEA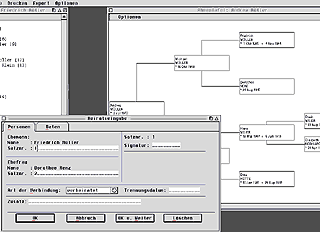 GENEA is a program written as an important tool for family, ancestor and descendant research.
Data is entered by various persons who may be in any relationship. In addition, data about the different marriages of the individual persons are entered. Over time, this creates an ever-growing database to which GENEA has quick access. All important personal and marriage data relevant for family research are stored. The genealogist also has the option of entering information of special importance to him or her in specially designated data fields.
Based on the collected data, GENEA can clearly display and print out the family relationships of the persons in the form of lists, pedigrees, family trees and descendant overviews.
GENEA Version 5.04.04
Pure C Patch
Patches PureC version 1.1, among others the Page Up/down keys of PC keyboards will be supported.
Pure C Patch
iFusion
With iFusion is it possible to use program which where desgined for STiK/STinG with Draconis or IConnect.
With iFusion 1.5 can Draconis programs used with IConnect.
This iFusion version based on the source from Jürgen Koneczny.
Download:
iFusion Version 1.50b