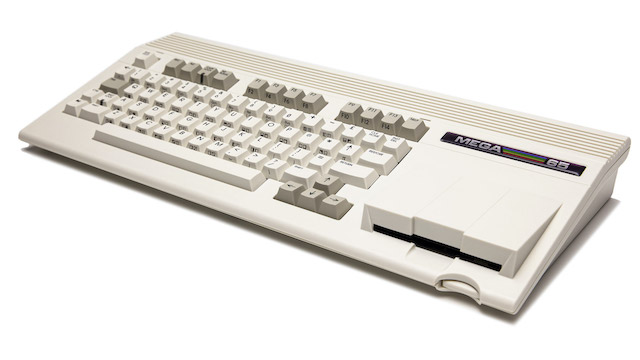 The Mega65 is an FPGA-based computer compatible to the C64 and C65(!), complete in its own case with keyboard. However, the system is also intended to become a Spectrum, Amiga or even Atari ST later on.
The case is strongly reminiscent of the C65, Commodore's planned C64 successor with a 3.5" floppy drive and much improved graphics capabilities. The prototypes of the C65 did not turn out to be quite as C64-compatible as hoped, in addition the C65 would have become an in-house competitor for the Amiga. The prototypes and developer machines were eventually sold in the USA and Germany.
Thanks to FPGA, the Mega65 achieves a higher C64 compatibility than the real C65, and the cores are open source. Like the C65, the computer has a floppy disk drive, but the developers did not strictly adhere to the C65 data sheet: SDHC card slot and LAN were not provided for by Commodore, and the system's graphics and sound capabilities were also improved once again. If you want to load software in the classic way via 5.25" floppy disk, you connect a 1541/1571/1581. The Mega65 can be pre-ordered for 793.33 euros and will be delivered in 2022.
https://mega65.org/ https://shop.trenz-electronic.de/en/Products/MEGA65/
---